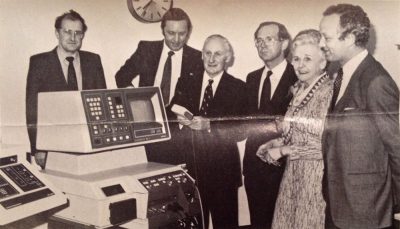 The Sussex Stroke & Circulation Fund is a registered charity raising money to fund research and provide equipment to help with the diagnosis and treatment of patients with vascular disease in Sussex. It was set up in 1980 by Mr Philip Sommerville, the first vascular surgeon in Brighton, with the help and encouragement of a former patient, Mrs Helen Liwicki. They were joined at the outset by Mr Robert Gumpert and Mr Colin Strachan, both Brighton vascular surgeons, and by Dr John Rees who, with Colin Strachan, set up the first service for carotid vascular disease in Sussex. Mrs Jennifer Redman was the first sonographer who provided the invaluable laboratory diagnostic.
Since 1980 we have raised over £1,000,000 from voluntary sources.
The charity has raised over £1,000,000 to provide vascular services at both the Royal Sussex County Hospital in Brighton and the Princess Royal Hospital in Haywards Heath.
In recent years the Charity has supported the development of a Vascular Assessment Unit in Worthing & Southlands Hospital as part of regional vascular service for Sussex.
We also produce information leaflets for people with vascular disease and those about to undergo amputation.
We also support research and education of healthcare workers involved in the development and delivery of Vascular Services.
Read more about our early history or visit our History Gallery.
The Vascular Assessment Unit
All of the equipment used in the Vascular Assessment Unit has been bought using money raised by the Fund.
The Vascular Assessment Unit at The Royal Sussex County Hospital was opened in November 2000, replacing the Vascular Laboratory which was set up by the Sussex Stroke & Circulation Fund in 1992. It has continued to expand and grow into one of the leading departments in the country, with 6000 scans being performed annually, under the leadership of Vascular Scientist Simon Ward who joined the department in 1993.
Many of the following items, all purchased by The Sussex Stroke & Circulation Fund, have completely transformed the way in which patients are diagnosed with this disease and have revolutionised the method of treatment. Without the charity none of this equipment would have been available, and the vascular service offered to patients in Sussex would not now be amongst the best in the country.
Hand held dopplers
Smokerlyser
Computers and printers
Treadmill
'C' arm for operating theatres
Specially adapted operating table for 'C' arm
Omnitract retractor
Mobile Ultrasound scanner
Transcranial Doppler system
Acuson colour duplex scanner
ATL colour duplex scanner
Chairs for the waiting room
Additional provision
The Fund has also contributed to pieces of equipment in other departments at the Royal Sussex County Hospital and the Princess Royal Hospital as follows:
Angiogram pump
Retractor and skull clamp – (Hurstwood Park)
Angiogram trolley – (Vascular Suite, X-ray)
Integris C arm – (Vascular Suite, X-ray)
Cardiocap monitor – (Vascular Suite, X-ray)
Diabetic monitor
Trustees of the Fund
Mr M. Button
Mr K. El-Sakka
Prof. S. W. Yusuf (Hon. Treasurer)
Mr M. Brooks MB, BS, FRCS (Chairman)
Committee
Mr S. Ward MPhil
Mr M. Caruana Md, MSc, FRCS
Malcolm Johnston
Vanessa Fludder